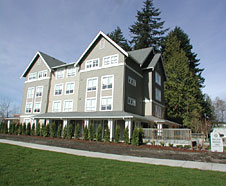 A limited number of rooms has been set aside for Workshop attendees at , the lab's guest house for visitors. For details of rooms and rates, and to make a reservation, please go to the and click on RESERVATIONS. Note that some rooms are also available for the days immediately before and after the Workshop. The rates applicable are those for "TRIUMF visitors". A 12% government tax applies to room charges.
When booking, on the reservation form, be sure to enter "FFAG'13" in the box "Travel Companion/Group", and to submit your request by August 19 to ensure availability; after that, reservations will not be restricted to FFAG'13 attendees.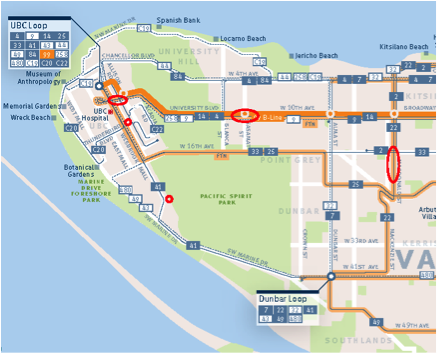 TRIUMF House is located about 2 km north of TRIUMF – a 20-minute walk or a 5-minute bus ride. (The Translink no. 41 bus stops close to both and runs every 5-10 minutes during the working day).
See for more information on buses.
TRIUMF House has a fully-equipped kitchen for use by residents, including cold and warm storage space. There is a cluster of restaurants and shops in (500 m to the north), and a coffee shop and sushi bar in Wesbrook village (halfway to TRIUMF). A wider selection of restaurants is available on and on (marked by red ovals on the map). Some that might be worth a visit include:
For those attending the Cyclotron Conference, bus transfer to TRIUMF House will be provided from the conference hotel on Friday, September 20, at a time to be settled following consultation during the conference.
Other Options
There are many in downtown Vancouver, but the nearest to TRIUMF are on Broadway (9th Ave.):


These are close to the Broadway stop on the from the Airport to downtown. UBC can be reached via the Translink no. 99 (express) or no. 9 bus services.
There are also several in the Point Grey and Dunbar districts, close to UBC and TRIUMF.