By Air
There are direct flights to Vancouver International Airport (YVR) from more than 40 international airports. [Note though that travelers from the USA may find it more economical to fly in to and rent a car for the 3-hour drive.]
Those attending the International Cyclotrons Conference beforehand should consult the page for information on getting to the Conference hotel.
Getting to TRIUMF House
is located on the UBC campus about 2 km north of TRIUMF at the .
From the Airport the simplest way to reach it is by taxi (about $35).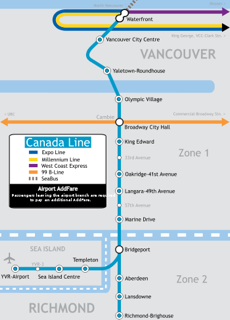 An alternative using the Vancouver Area Transit System () is to take the Canada Line (light rapid transit) to the Oakridge-41st Avenue station and transfer to the #41 bus, getting off at the Thunderbird Blvd stop. A single ticket will take you right through and costs $9 (including a $5 surcharge for travelling from the Airport). The surcharge may be avoided by using a Faresaver ticket, obtainable in books of 10 at $21from the on Level 1 (basement) of the Domestic Terminal.
Faresaver tickets will also be useful for commuting between TRIUMF House and TRIUMF (the regular one-zone transit fare is $2.75, and exact change is required). In the UBC Village they can be obtained from the University Pharmacy or Shoppers' Drug Mart (at 5754 and 5950 University Boulevard respectively).
For a map of bus routes near TRIUMF and TRIUMF House, please see the page.